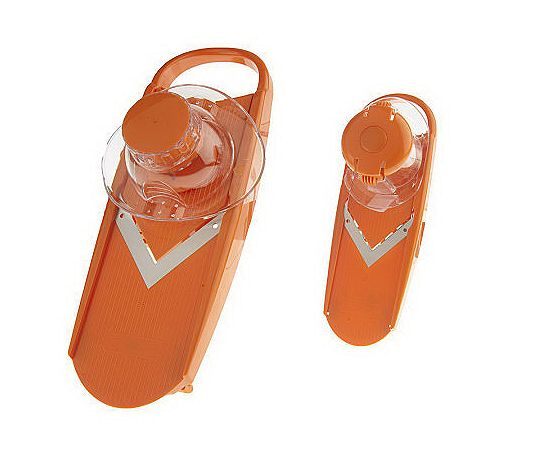 Hello Everyone!
Last week we received our new Genius Gourmet Slicers (we already had the Nicer DICER and loved it so we thought we'd give this a try). We've had fun trying it out and I must say WE LOVE IT!!! The Genius Gourmet Slicer cuts vegetables, etc into uniform slices and you can choose how thick or thin you want the slices to be. It came as a set of two...a large and a small. The small one is for things like olives, cherry tomatoes, garlic, etc. The large one is for....well....larger items! We've tried both the small and the large....both work great! On the large one, we've sliced tomatoes for BLT's, potatoes, and we shredded some lettuce with it. On the small one we sliced some Roma tomatoes. There is even a handle with each size. On the large one, the handle has prongs that stick into the food to hold it while you are slicing...this also makes for NO WASTE! On the small one, you put the food into a small container and push lightly on a plunger to keep the food against the slicer...NO WASTE!
Everything is dishwasher safe and that's a huge plus for me! It was easy to rinse off and stick it right in the dishwasher.
Okay....where to order?! We got ours from QVC. It can also be ordered direct from their website. We chose QVC because of the "easy pay" option. Below are the links to both sites.
***NOTE: We were NOT paid to write this review and we did NOT receive this item for free***
CLICK HERE TO GO TO THE QVC SITE WITH THIS ITEM
Here is the description from QVC:
Give your culinary creations a professional look with these adjustable gourmet slicers. The full-size mandolin's unique V-blade is crafted from one piece of stainless steel to evenly slice veggies, fruit, cheese, and meats. The mini slicer works wonders on garlic, shallots, and small garnishes. From Genius.
Includes full-size mandolin slicer and mini gourmet slicer
Safety lock for easy storage
Full-size adjusts from 1/16" to 1/4" thickness
Mini adjusts from 1/32" to 1/8" thickness
Measurements: Full-size 13-3/4"L x 4-3/4"W x 1-1/2"H; Mini 9"L x 3"W x 1"H
Enjoy!
Michelle